![if IE]> <![endif]> <![if !IE]> <![endif]>
This is a list of all the wonderful people who appeared in the video, supplied help, equipment or locations, mostly for zero pounds.
I cannot thanks them enoughs.
Crew
Matt Holt - Director
Beth Aynsley - Producer
Tim Jordan - Camera
Mike Smith - Editor
Chris McInnes - Sound Mixer
Ruth Brophy - Make-up
Russ Gray - Production Assistant
Ben Pickering - Production Assistant
Spencer Tiney - Production Assistant
Kyri Yiacoumi - Production Assistant

Cast
Lucy Porter - Wife
Schoolkids - Mr Lancaster's Class,
Parkview Academy
Mike Smith - Midge Ure
David Bloom - The other one from Ultravox
Tom Rosenthal - The other one from Ultravox
Spencer Tiney - The other one from Ultravox
Beth Aynsley - Cheese on Toast Woman
Sarah Coyle - Croque Monsieur Woman
Christopher Beard - Archers Listener
Mark Irving - Christmas Dad
Edmund Irving - Christmas Son
Carl Donnelly - Chef

Tiernan Douieb - Chef
Barry Ferns - Chef
Albion Gray - Chef
Nathon Caton - Gang Leader
Tom Deacon - Lieutenant
Mickey Anderson - Gang Kid
Stephanie Bell - Gang Kid
Henry Brennan - Gang Kid
Clare Chater - Gang Kid
Will Croft - BLT Backflipper
Rupert Langsland Pearce - Gang Kid
Colette Osgun - Gang Kid
Karl Schultz - Gang Kid
James Stewart - Gang Kid
Ben Verth - Gang Kid
Natasha Vieira - Ham Tattoo
Amy Walsh - Gang Kid
Mike Walsh - Gang Kid
Mike Smith - Java Programmer
John Dredge - Java Programmer
Rohan Acharya - Big Boss
Sam Fletcher - Number One Fan
Chris Fulwell - S-3000 Presentation
Liz Garland - S-3000 Presentation
Steve McNeil - S-3000 Presentation
Gerry Howell - Office Worker

Kalvin Lyle - Office Worker
Adrian Poynton - Office Worker
Becky Poynton - Office Worker
Victoria Redfern - Office Worker
Adam Redmore - Office Worker
Darshan Sanghrajka - Office Worker
Karl Schultz - Office Worker
Lou Spurgeon - Office Worker
Kerry Tite - Office Worker
Natasha Vieira - Office Worker
Charlie Walker - Office Worker
Dean Wicks - Office Worker


Thanks also to
Claire Otway - School Liaison
The Aynsleys - Bulk sandwich production
Paul Zenon - Loan of skull
Simon Evans - Courier of skull
Richard Allen-Turner - Office Location
Mariana Chin - Office Location
Laras Café SE24 - Cheese on Toast Location
Cappucino Café SW2 - Croque
Monsieur Location
Natasha Vieira - Choreography
Mr Lancaster - Young actor Wrangler

This email from Roy Gwinn was received shortly after the video went up on YouTube. It gives me great happiness.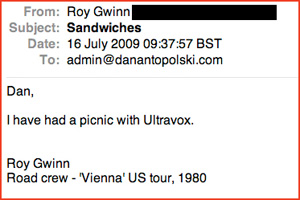 This is the permission form to film near the Houses of Parliament. In the normal course of things UK Minister Tessa Jowell will have been informed that there was a legal protest against her not being a sandwich. Her feelings on this are not known.